4 January 2021
Danupon Nanongkai joins BARC
Staff news
BARC welcomes Danupon Nanongkai to the team.
In March 2021, Danupon Nanongkai will join the BARC team as a professor of theoretical computer science at DIKU.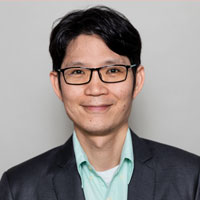 Danupon Nanongkai comes from a position as an associate professor at the KTH Royal Institute of Technology, Sweden. His research spans many areas of theoretical computer science, with a strong emphasis on graph algorithms. His group is internationally recognized for answering many long-standing algorithmic questions. With 25 papers in the last 10 years in FOCS and STOC, the flagship conferences in the theory of computing, he is among the most productive researchers in the field.  He was awarded the Principles of Distributed Computing Doctoral Dissertation Award and the Starting Grant from the European Research Council (ERC).
I am looking forward to being part of the University of Copenhagen and the evergrowing algorithms community in Denmark. BARC has been well-known as a world-class research center. With the recent additions, I believe that BARC is in an excellent position to make an even stronger impact in the coming years, says Danupon.  

We at BARC at looking forward to this great opportunity for collaboration and groundbreaking research!